Craft Ale and Lager
Try one of our premium craft beers from the award winning brewers, Big Smoke.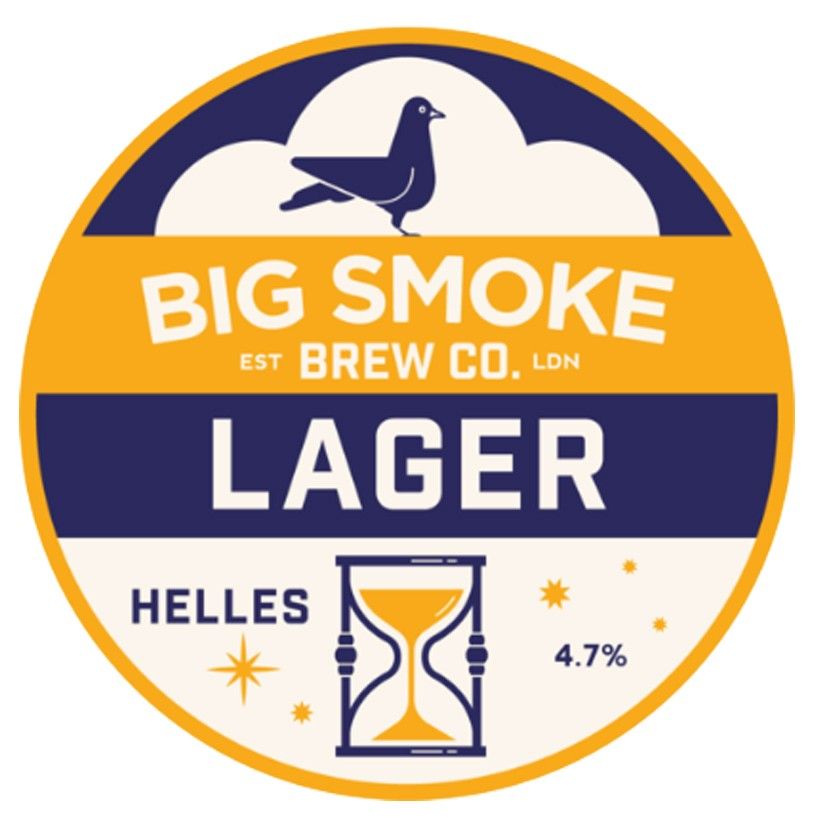 Big Smoke are a young brewery and pub company producing modern beer styles in the leafy suburbs of Esher in Surrey.  They brew hop forward pales, crisp lagers, rich stouts and everything in between!

We never leave home without Helles or Electric Eye!!
---
Prosecco Cocktails
Add sparkle to your bubbles by trying one of our popular Prosecco cocktails.
Blue Fizz
Prosecco with Blue Curacao (pronounced as 'Cure-ah-souw'), garnished with blueberries. The Blue Curaçao's flavour comes from the peel of the Laraha citrus fruit (which has been dried) and is grown on the island of Curaçao, hence the name.
Pink Fizz
Prosecco with pink gin, garnished with berries. The most popular of our prosecco cocktails, probably because of the love we have for prosecco and pink gin!!
Purple Fizz
Prosecco with a dash of chambord liqueur, garnished with raspberries. Chambord liqueur was inspired by a luxurious raspberry liqueur that, according to legend, was produced for French royalty!
Yellow Fizz
Prosecco with lemon drizzle gin, garnished with lemon.
---
Traditional Cocktails
Fantastic on a sunny day! Even better on a rainy day!
Mojito
Delivering zesty lime with fresh mint and a backbone of crystal clear, smooth Bacardi White Rum, the classic Mojito cocktail recipe has all the ingredients for a great party – enjoy it with the crew!
Mint Julep
Whisky cocktails don't come much more refreshing than a mint julep. Serve over mounds of crushed ice and top with freshly picked garden mint
Pina Colada
The Pina Colada Cocktail is a creamy blend of coconut and Cayenne pineapples served with white rum. The sweet and smooth Pina Colada cocktail is all you need, in hand, to fantasize about crisp white beaches, turquoise seas and palm trees!
Blue Lagoon
A brilliant, turquoise 1970s classic, the Blue Lagoon may look and sound tropical, but it's a deliciously tangy, citrus harmony of vodka, blue curaçao and lemonade.
Sex on the Beach
A modern classic, Sex on the Beach has a name you won't forget, but one that shouldn't hide the qualities of subtly sweet fruit plus a backbone of clean, smooth Smirnoff Vodka.
Moscow Mule
Made with vodka, ginger beer, and lime juice, garnished with a wedge of lime. The Moscow Mule was invented in 1941 John G Martin at a bar in Sunset Boulevard which was popular with celebrities (swap Vodka for Jack or Cinnamon Jack for an appealing alternative).
Good ol' Whisky Ginger
Tangy ginger plus the delicious smoothness of Haig Club Scotch Whisky – no wonder Good ol' Whisky Ginger has so many fans.
Harvey Wallbanger
A long, citrusy cocktail with subtle herbal flavours, the Harvey Wallbanger was reputedly named after a Manhattan Beach surfer, and has gone on to become a modern classic.
Negroni
With Mediterranean herbs, a hint of orange and gin botanicals, the Negroni recipe is full of flavour – and history. This classic Italian cocktail is loved by bartenders for its subtle bitterness and use of vermouth.
Bicyclette
This white wine cocktail is made with the classic bitter, Campari - with added wedges of lemon for a refreshing fruity hit
Baileys over ice
A simply satisfying drink that can be enjoyed by anyone, anytime. Smooth sweet Baileys poured over ice satisfies as soon as it touches your lips.
Baileys Orange Bliss
The ultimate indulgent drink, combining the ultimate luxury cognac and Orange Liqueur with the rich, creamy textured Baileys Original Irish Cream.
---
Summer Classics
You cannot have a bar menu without these!
Pimms & Lemonade
You can do plenty with Pimm's – a garnish here, lots more strawberries and cucumber there – but sometimes just a pour of lemonade makes for a great-tasting drink.
Pimms Cup
Give your favourite outdoor tipple a touch of ginger ale. It's a spicy twist on the classic drink, the coolest serve with a difference.
Pimms on Fire
The classic fruity, subtly herbal taste of Pimm's is given a new dimension with a hint of ginger beer and fresh mint for a spiced-up version of the drink that works perfectly as a long summer serve.
Aperol Spritz
Tastes like summertime in Italy and looks like a golden orange sunset. An Italian wine-based cocktail, commonly served as an aperitif in Northeast Italy. Aperol, Prosecco, Soda Water. Served on the rocks, garnished with a wedge of orange.
Summer Punch
If it's a splash of Summer sophistication you're looking for, then this glass of loveliness with a crisp cranberry kick and a sweet mango finish is right up your beautifully manicured street.
---
Gins, Rums and Vodkas
Last year was flavoured gins, this year its flavoured rums and vodkas. Watermelon Vodka is a particular TML favourite!
Gin & Tonic
Juniper and other delicious botanicals from Bombay Saphire gin plus fizzy, slightly bitter tonic and a tang of lemon make one of the world's most famous drinks – the Gin and Tonic.
Gin & Pineapple
This makes for a great party drink with friends, and gives a tropical touch to the subtle citrus botanicals in Bombay Saphire's Gin.
OMG&T
Perfect after work, this quintessentially British drink has been given a fresh berry facelift that'll wow your friends and take you straight to cocktail Nirvana.
Cuba Libre
Dark Captain Morgan and Coke. All-time classic recipes!
Vodka Tonic
Clean, pure vodka mixed with fizzing tonic and a subtle citrus squeeze of fresh lime: this is the Vodka Tonic cocktail, one of the simplest and most popular of mixed drink recipes.
Flavoured Gin, Rum and Vodka
A wide variety of flavoured gins, rums and vodka. From Rhubarb & Ginger to Coffee and Watermelon to Toffee.
---
The Obvious
Prosecco and wine (lots of it!)
Everything else..
We also have a range of other spirits and soft drinks. We can also stock on request!